Setting the Standard for BPO Curriculum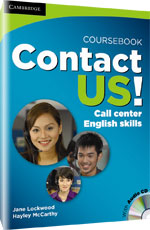 FuturePerfect are synonymous with quality when it comes to training materials. We are internationally published authors of the call center training book Contact US! and have extensive experience creating custom courses for leading call centers across the world.
Equally adept at creating engaging, relevant online course content, we have developed an online customer service training course that allows your agents to improve their communication skills online, on their own, on-the-floor.
Best Materials
FuturePerfect provides the best materials available. Underpinned and informed by theoretically sound approaches and specifically targeted to the skill sets required to impact performance, our materials give your trainees the best preparation possible.
With courses commercially available or custom-built to your specific needs, online or offline, we set the standard for curriculum excellence.
Right Approach
our materials develop relevant skills based on real customers
Our materials are authentic, integrated and communicative. Based on authentic calls and scenarios, our materials target the actual skills that cause communication problems with customers including clear explanations, interactive strategies and intercultural competence.
Our integrated approach means trainees learn not just how to use specific pronunciation, language and interactive skills in isolation but how to combine these skills together to actually solve problems
A communicative approach is essential to trainee development. agents will not listen to lectures; they will actively engage with the specific skills they need in context, learn through experience, correction and feedback. This approach is proven to have much greater impact in enhancing communication skills, confidence and skill integration in new agents.
Quality Training
poor curriculum =
poor performance

your agents need the best
in order to be the best
By providing your trainers with the right tools, you can ensure you get the best out of your trainers, your new hires and your learning resources.
Our materials and approach are proven to achieve high impact and is a motivating and enriching experience for learners and trainers alike.